NEXT
PREV
Zoom
Desert Fox Ultralight Tent
SKU:
CJYDQTLY00273-Orange
Availability:
In stock 17076 items
30-Day Money Back Guarantee
90% Positive Customer feedback
$5 Shipping On All Orders
STANDARD SHIPPING - $5
Item delivers in approximately 10-20 business days. Please visit our Shipping Policy for full details. *Excludes gift cards.
United States Shipping is only for customers in the USA.
Strut material: aluminum rod
Foreign account: 210T polyester cloth PU coating waterproof 3000MM water
Inner account: 190T polyester cloth + encrypted mesh
Primer: Oxford cloth
Applicable number: Single

The front hall can be supported by two trekking poles or poles. The tent itself has no support rods!

Features:


Beautiful, the inner account is made of mesh and breathable cloth, and there are streamlined design crossbars. Both beautiful and use, to ensure that your return rate is 100%.
Breathable, the net is made of mesh and breathable cloth, and the mesh is a large part, which provides a large tent.
There are two ventilation windows on the outer ledger, and there is a Velcro design, more breathable and rainproof.
Sturdy, high-strength aviation aluminum rod. The aluminum rod diameter is 0.79MM and is equipped with four windproof Rope and 11 high-quality aluminum dices.
Waterproof, wear-resistant, fabric with 190T PU3500 high-strength anti-ripper plaid fabric, no big rain, no problem. The bottom material is made of 150D PU5000 oxford cloth, which is waterproof and wearable than ordinary tents.
Universal for all seasons, whether it is practical in spring and summer or autumn and winter, he is more breathable and warmer.
Ultra-light, the entire tent is only 1.8KG, which is more convenient to carry. The handbag also has a storage bag, which can put some small items.
Style features: waterproof, cold, wild survival, fishing, adventure, night fishing, winter fishing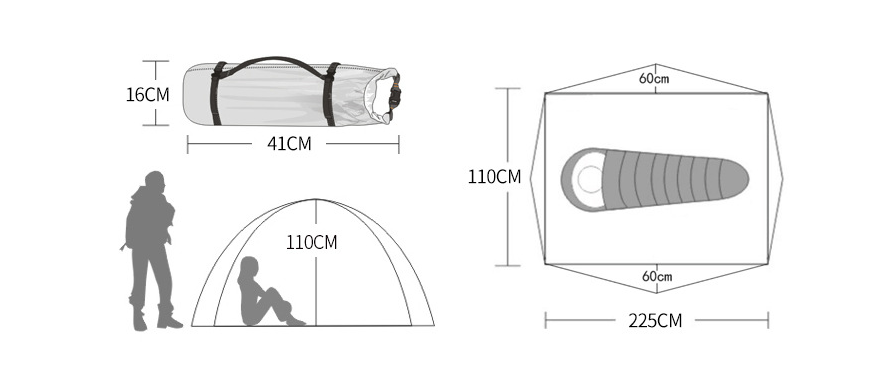 Shipping Costs
We offer customers FREE shipping with tracking on all orders!
Standard Shipping Times
On the product page of every item, you will find an estimated delivery range. Each product's shipping time varies, as we ship using various partnering warehouses, which also results in your order arriving in separate packages if more than one unique item is purchased. Please check the product page for shipping times for that product. 
Processing Times
Orders typically take 1-5 days to process after placing the order before shipping out.  Please allow for your order to be processed and shipped before receiving your tracking number via email.
If you haven't received a tracking number or if the tracking number doesn't work, contact us and we will resolve it! 

Unexpected Delays
In some rare instances, a delivery may take longer than the standard shipping times stated on the item's product page. Please contact us if your package has not arrived after the allotted time and we will work with you to resolve your situation.
If more information is needed, please email us at info@blueyeticamping.com and we will be glad to help!
More from this collection